Wind Turbine MRO: An Efficient Method for Turbines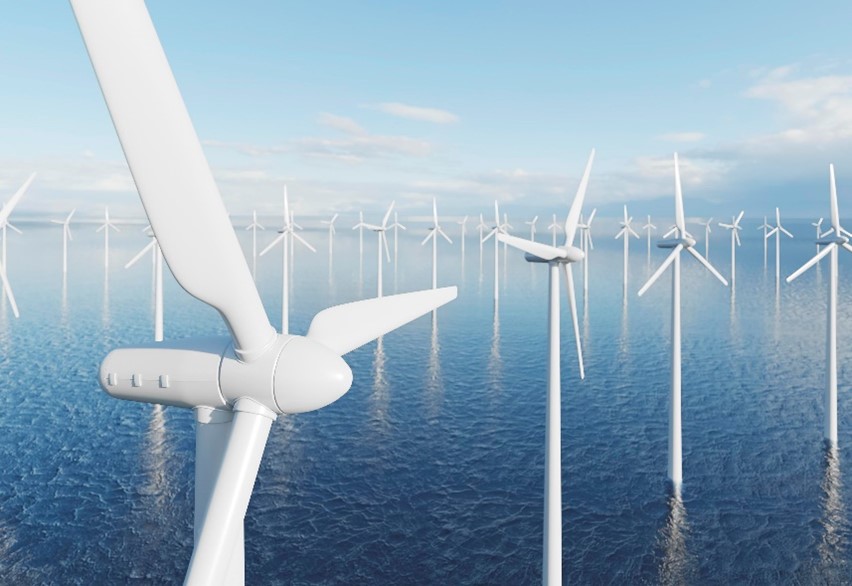 The adoption of wind power for power generation is increasing significantly in recent times. Wind energy is widely used in various applications to reduce carbon emissions as it does not produce any material waste. The rising demand for wind energy across the globe resulted in a demand for maintenance, repair, and overhaul (MRO) services for turbines, towers, and generators.
The average lifespan of a wind turbine is around 20-25 years and that depends on the extreme wind and weathering forces that they are exposed to throughout their lifecycles. For a longer lifespan and better efficiency, manufacturers invest in effective maintenance technique
Based on location deployment, wind turbines are bifurcated into on-shore and off-shore. New technological advancements in offshore deployment can attract wind turbine maintenance companies for investments.
What is Wind Turbine?
It is a machine that converts wind energy into electricity using the aerodynamic force from the rotor blades. Based on the technology used, the blades of the turbine usually turn between 12 to 18 revolutions per minute at a variable or constant velocity.
How much energy does a wind turbine produce in a month?
As per the 2021 edition of the U.S. Department of Energy's Land-Based Wind Market Report, the average wind turbine can generate around 843,000 kWh per month. The generated energy can be used for several purposes such as residential use, small commercial use (for schools, hospitals, and office buildings), and others.
Applications:
Wind turbines can provide energy for sales as well as for onsite use. There are several applications based on the size of the turbine
Small-size turbines can produce energy for residential use as a home requires for daily operations. These turbines are installed on small towers to create energy. The average capacity factor for a small turbine, a 10-kW turbine can produce around 14,892 kWh per year.
Small Scale Commercial Use (10-50 kW)
The energy produced by the turbines is more than residential ones which can be used for small-scale commercials such as schools, hospitals, office buildings, and part of campus. These turbines can produce high power production with greater efficiency, but these turbines need high maintenance than the ones used for residential.
Commercial Onsite Energy Use (50-250 kW)
These turbines can produce larger energy that can be used in larger facilities, municipal loads, campuses, and communities. These wind turbines need a special permit and coordination for installation with regulatory agencies or organizations due to the significant capital investment.
Industry Energy Use (500 kW- 1.5 kW)
This turbine is used for large onsite industrial loads, and it is suited for communities as well. Turbines installed on towers that often exceed 200 feet which are needed to be fitted with obstruction lights. These are usually installed as per the requirement of commercial lenders. The project with these turbines needs community involvement and approval at all levels.
Utility-Scale Energy Use (1.5-7.5 kW)
These turbines are installed with the point of energy sales and are highly efficient. These large turbines have rotors that are around 230 feet in diameter which help to generate electricity at power plant scales. The huge turbine installation requires environmental and public coordination at the highest levels.
Global Wind Turbine MRO Market Size and Valuations
Wind turbines are gaining rapid traction in recent times. Wind energy is widely adopted by key companies in the renewable energy industry due to increasing government initiatives for renewable energy across the globe.
The growing adoption of wind power globally, owing to awareness of the environment from coal-based generated power plants likely to boost the global market. The global wind turbine MRO market size was valued at USD 81.91 Bn in 2021 and is expected to reach USD 83.34 Bn by 2030, expanding at a CAGR of 16.1% during the forecast period, 2022-2030.
Some of the major players in the global wind turbine MRO market are General Electric Company; Siemens Gamesa Renewable Energy SA; ABB Ltd; Suzlon Energy; Vestas Wind Systems A/S.
Get a Free Sample Report @ https://growthmarketreports.com/request-sample/2684
Why is Wind Energy gaining rapid traction in the Renewable Energy Sector?
The demand for electricity is rising continuously owing to the rise in population in emerging economies. The wind is a clean energy source that does not produce any waste or release any carbon emissions. Wind energy can be used for various purposes such as for industrial, home, and municipal loads. Rising energy demand coupled with the increasing share of wind power in the global renewable energy sector reduces the reliance on fossil fuel-based power generation.
Increasing government initiatives by providing various fiscal and financial incentives for private sector investments such as Accelerated Depreciation benefits, and concessional custom duty exemption on certain components of wind electric generators.
Conclusion:                                                                                       
The wind turbine MRO is an essential process to increase the efficiency of turbines. Increasing the lifespan of turbines by repairing and maintaining the components of a wind turbine can help to produce better wind energy. The rising awareness regarding the environment to reduce pollution and carbon emissions can increase the demand for wind turbines in the renewable energy sector.