AFRO, Africa's first cryptocurrency, partners with Talenteum to boost digital and financial inclusion in Africa.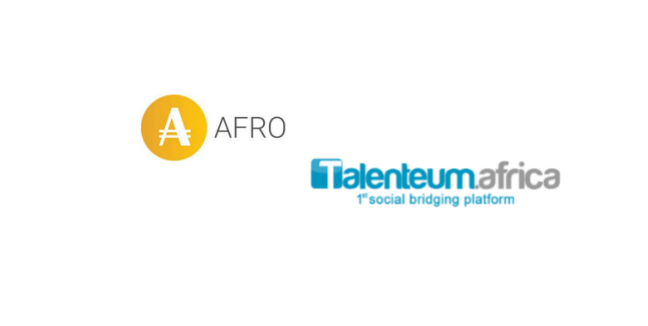 AFRO and the pan-African platform Talenteum have signed a partnership agreement to facilitate transactions within a community of over 10,000 Africans, through the use of AFRO, the first crypto-currency dedicated to the African continent development. This partnership is at the heart of AFRO's strategy based on collaboration with digital players with a common mission: the digital and financial inclusion within the African continent.
Talenteum is an impact-driven platform designed to help European and American companies that struggle to find talents in their own countries. It enables such companies to source a new pool of talent located in Africa and employ remote-working teams without leaving their home countries. Talenteum handles local employment compliance and payroll enabling European and American companies to hire local talents as if they had employed them directly in the African countries.
AFRO offers Talenteum's growing community an innovative and an added value payment method. Thus, the use of AFRO allows to boost transactions and commercial exchanges between Africans, regardless of their country of residence, and between Africa and the rest of the world. The AFRO's usability, its digital management and its low transaction costs meet the needs of African youths who are increasingly connected and open to the continent and the world.
David Nataf, a member of AFRO's founding committee said :
"This partnership will enable the African new generation to pursue its financial inclusion by being part of the continent's talents pool."
Nicolas Goldstein, co-founder of Talenteum said:
"Digital and financial inclusion contribute to the sustainable development of the African continent, and help tackle inequalities and brain drain challenges."
About the AFRO Foundation:
AFRO was created in December 2016 by a group of economists, cryptocurrency experts, humanists, and intellectuals from different backgrounds who share a common goal of social and economic development of the African continent.
AFRO is a pan-African crypto-currency that aims to be an apolitical and neutral tool dedicated to the development of Africa. It was created to tackle African development issues such as financial inclusion and the development of exchanges between Africans, regardless of their country, and between Africa and the rest of the world without being hindered by borders and the usual cost of transactions between the 40 different African currencies.
Contact : www.afrofoundation.org
About Talenteum:
Talenteum is a Panafrican platform designed to help companies source and employ remoteworking teams mainly in Africa. It handles local employment compliance, payroll, human resource support, and benefits for international teams, enabling clients to productively hire and manage full-time personnel internationally. Talenteum is also compliant with several of the Sustainable Development Goals (SDGs) as defined by the United Nations, and regularly receives awards for this.
By promoting fair collaboration between continents, Talenteum provides a solution to source the 85 million talents that will be lacking in the world by 2030 and to seize the 8,000 billion dollars of opportunities.
Contact : www.talenteum.com